Accueil boutique
>> Klean - Influence - Live Paris - Konpa Mechan Mechan
Klean - Influence - Live Paris - Konpa Mechan Mechan (CD, Album)
Article n° 8
"Prix : " 7.99 €
>> Commander
>> Voir photos
Artiste : Klean - Influence
Titre : Live Paris - Konpa Mechan Mechan
Label : Hepitex - Ref : HP.034-1
Barcode : Format : CD
Description format : Album
Digipack
CD Album sortie : 2008
Genre : Folk, World, & Country (Folk, Musique du Monde, & Country)
Style : Kompa
État Média : Near Mint (NM ou M-)
État Pochette : Very Good Plus (VG+)
Commentaires description :
Record NM sleeve EX
› Genre : Kompa | Label : Hepitex | Parution : 2008
KLEAN & INFLUENCE : LIVE PARIS (KONPA MECHAN MECHAN)
Musiciens KLEAN :
--> Michelet BRUTUS
--> Pierre Paul SAGET dit PIPO
--> PETIT-FRERE Rony
--> Frantz CAMEAU
--> Raymond ANDRE...
Musiciens INFLUENCE :
--> GUY DAMAS (TI GUY 1ST CLASS)
--> Patrick CASTOR
--> Ronald PETIT-FRERE
--> David ZAMOR
--> Pierre FRANKLIN...
01. Groove Musical
02. Nou La Toujou
03. Moun Damou
04. BetonGroove
05. Roulé (Compalogie Vol.1 de Serge Déscar Interprétée par Influence)
06. Ti Yayade (Influence)
See photos here : https://tzarb.com/boutique/8.php
Adresse URL de la page : https://tzarb.com/boutique/8.php

Emplacement : a13
Make a order by my contact page
(

Click here)
.
Cliquer sur les images pour agrandir. Click on the images to enlarge.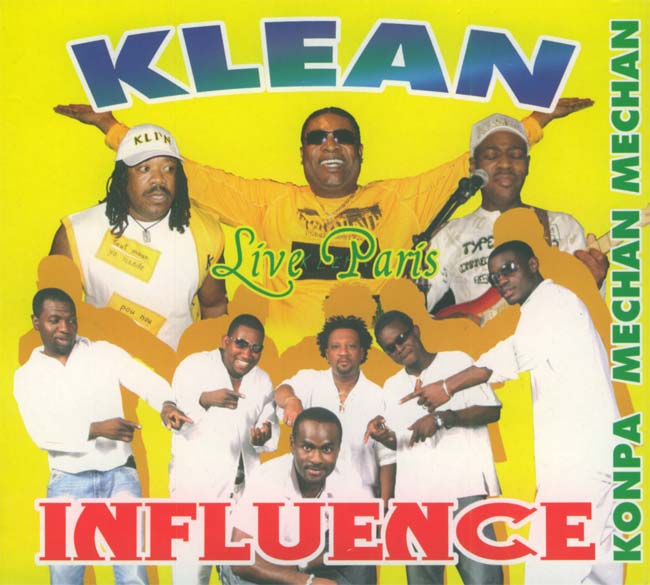 Commande de plus de 60 € : Port gratuit (en France).
France : Free shipping for order over 60 €.
Rest of the world :
Free shipping for order over 130 € (except shipping by DHL).
Read shipping conditions
Formulaire pour commander des disques
Précisez le numéro d'article des disques que vous souhaitez acheter, vos conditions de paiement et d'expédition dans votre message. Lire
mes conditions d'envoi.
Mode de paiement :
Paiement par Paypal pour l'achat des disques par correspondance.
Si choix option par Paypal, une facture pour vous demander le paiement sera envoyée sur votre adresse mail rattachée au compte Paypal.
Type de livraison :
1) Expédition,
tarifs selon mes conditions d'envoi.
2) Remise en mains propres (
Voir ici
)
----------------------
* Obligatoire (Required field)
Achète disques
vinyle 33t et 45t, et aussi CD, de pop, rock, jazz, rock progressif, hard rock, heavy métal, reggae, soul, funk, musique de films, diction, illustrations sonores, variété française et internationale, zouk, africain, oriental des années 50's, 60's, 70's, 80's, 90's et même des années 2000.
Didier --> Tel: 06 15 02 04 15 ou
formulaire de contact