Accueil boutique
>> Roberto Paternostro - Das Rheingold
Roberto Paternostro - Das Rheingold (CD, Album)
Article n° 6
"Prix : " 29.99 €
>> Commander
>> Voir photos
Artiste : Roberto Paternostro
Titre : Das Rheingold
Label : ARS Produktion - Ref : ARS 38051
Barcode : Format : 3x CD
Description format : Album
Coffret
CD Album sortie : 2016
Genre : Classique
Style : Musique classique
État Média : Mint (M)
État Pochette : Mint (M)
Commentaires description :
Mint unplayed still sealed. Neuf et scellé.
Das Rheingold (1869) [149.14] Manfred ... Kassel State Theatre Orchestra/Roberto Paternostro
Manfred Voltz (Wotan), Marisa Altmann-Althausen (Fricka), Christian Franz (Loge), Cyril Assaf, Sedat Öztoprak (Donner), Omar Jara (Froh), Inga Fischer, Anja Vincken (Freia), Silke Marchfeld (Erda), Klaus Wallprecht (Alberich), Manfred Jung (Mime), Markus Hollop (Fasolt), Dieter Hönig (Fafner), Marisca Mulder, Christa Plazer (Woglinde), Petra Schmidt (Wellgunde), Gundula Schneider (Flosshilde), Orchester Staatstheater Kassel, dir. Roberto Paternostro (live, Kassel 1999).
CD ARS 38051. Notice en anglais et en allemand. Bonus : interview de Michael Leinert par Thomas Voigt (en all.). Distr. UVM Distribution.
Etat / Condition
NEUF / MINT
See photos here : https://tzarb.com/boutique/6.php
Adresse URL de la page : https://tzarb.com/boutique/6.php

Emplacement : a13
Make a order by my contact page
(

Click here)
.
Cliquer sur les images pour agrandir. Click on the images to enlarge.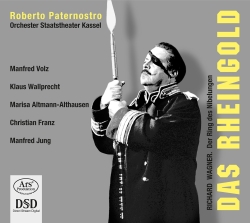 Commande de plus de 60 € : Port gratuit (en France).
France : Free shipping for order over 60 €.
Rest of the world :
Free shipping for order over 130 € (except shipping by DHL).
Read shipping conditions
Formulaire pour commander des disques
Précisez le numéro d'article des disques que vous souhaitez acheter, vos conditions de paiement et d'expédition dans votre message. Lire
mes conditions d'envoi.
Mode de paiement :
Paiement par Paypal pour l'achat des disques par correspondance.
Si choix option par Paypal, une facture pour vous demander le paiement sera envoyée sur votre adresse mail rattachée au compte Paypal.
Type de livraison :
1) Expédition,
tarifs selon mes conditions d'envoi.
2) Remise en mains propres (
Voir ici
)
----------------------
* Obligatoire (Required field)
Achète disques
vinyle 33t et 45t, et aussi CD, de pop, rock, jazz, rock progressif, hard rock, heavy métal, reggae, soul, funk, musique de films, diction, illustrations sonores, variété française et internationale, zouk, africain, oriental des années 50's, 60's, 70's, 80's, 90's et même des années 2000.
Didier --> Tel: 06 15 02 04 15 ou
formulaire de contact